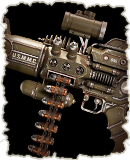 The Pomson of the USMMC
Dr. Grordbort's technician Alexander Ingle has completed work on his custom one-off Pomson, designed especially for the United States Moon Marine Corps.
Fresh from the prototype lab, this beast has several modifications.
An advanced sighting system (who'd have thunk it - aiming with a raygun!), depleted Tremontium slugs and an olive drab paint job are amongst the plethora of custom details this fine weapon has acrued.
Top job Alexander!