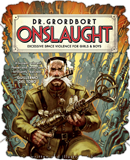 Onslaught at San Diego Comic Con 2014
Titan publishing have done it!

Dr. Grordbort's Onslaught will be released at Comic Con 2014 in San Diego.
Artist and creator, Greg Broadmore will be at the Weta Booth #3613 signing and scrawling in the new hardcover for those in attendance.
This Dr. Grordbort's combined edition from Titan publishing combines all 3 previous Dr.G books into one sumptuous volume and for long time fans includes more than 30 pages of all new content, including an original Lord Cockswain adventure comic by Elysium and Pacific Rim concept designer, Doug Williams.
Also featured are never published Venusian beasties, robots and a host of never before seen goodness.
Good show - see you at the Con!