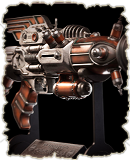 Pomsons Galore
At last, the long awaited Pomson Sub Atomic Wave Guns are winging their way from Dr Grordbort's factory to proud new sociopaths across the planet.
We do hope they put them to good use in defending terra firma from baby-chomping Martians, bug-eyed Venusians and closer to home, paupers and vagrants.
A few of the shiny new veneers have been produced and now we can reveal them in all their glory - Copper Six-Pence, Deco Turquoise, Piano Black and once only, for our number one of fifty, Earth Elite Forces special - enjoy!