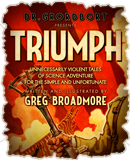 Triumph! The new Dr. Grordbort's book is revealed!
WetaNZ is proud to announce the upcoming release of the third Dr. Grordbort's book - Triumph: Unnecessarily Violent Tales of Science Adventure for the Simple and Unfortunate - written and illustrated by Greg Broadmore.
Here's what one notable gent had to say:
"When Steampunk meets adventure and adventure meets comedy and comedy meets ingenuity and ingenuity meets charm and charm meets wonder and wonder meets pleasure, the result is a Triumph. Dr. Grordbort is the future. And the past. Which makes an ideal present."
Stephen Fry
More sneak previews and wordy insights from Dr. Grordbort's spiffing chums will be revealed in the coming weeks.
Pre-orders open 17 May (NZ time) – sign up for our newsletter for the first word