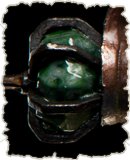 Updated! Rare Gibberite Gun Snuffled!
Ladies and Gentlemen. It took 10 minutes and 43 seconds for this gun to get snuffled up. It may be a new County Record! If such records were ever recorded. Which we believe they aren't.
Fisticuffs broke out between the ladies at the front of the line, but in the end there was a victrix who narrowly secured this piddly yet powerful gun and celebrated with a quick game of Gibberish!
Thank you for playing - make sure you snare the Postal P.I.G.E.O.N. for news on the next release!
---
1 July 1911:
Lot #285: Gibberite reinforced Custom Raygun
Lady Mildred Wothrothrington, the unfortunate owner of the World's first and, to the best of our knowledge, so far only Gibberite reinforced ray pistol has decided to part with her treasured gun after an embarrassing interlude resulting in the death of not only her husband, Bronn, but annoyingly also 24 dinner guests. And everyone knows how very hard it is to find civilised guests these days.
This particularly juicy worm shall be fully revealed (along with its entire back story) and offered to the earliest bird in a public sale at Grordbort Industries' Preferred Distributors', Weta, sales rooms on the electric web, located at www.wetaNZ.com/rayguns at the following times:
San Luis Obispo, California | Wednesday 6 July 2PM
Little Rock, Arkansas | Wednesday 6 July 4PM
Williamsburg, Virginia | Wednesday 6 July 5PM
Scunthorpe, UK | Wednesday 6 July 10PM
Dijon, France | Wednesday 6 July 11PM
Woolloomoolloo, Australia | Thursday 7 July 7AM
Dannevirke, New Zealand | Thursday 7 July 9A