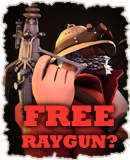 Get Your Free TF2 Righteous Bison at Comic Con
That's right - a free Team Fortress 2 Righteous Bison can be yours.
Straight from the newly announced Dr. Grordbort's Victory Pack, this Team Fortress 2 item is on sale now. but visit us at San Diego Comic Con 1911 and a coupon for said virtual wave weapon could be transmitted to your grubby little mitts.
Dr. Grordbort's representatives will be present at the Weta stand on the corner of the DarkHorse booth  #2615
They're limited so get in quick smart. Chop chop and that!