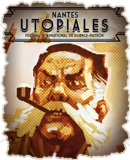 Dr Grordbort goes to France
Next stop Nantes, birthplace of Jules Verne.
Dr. Grordbort's Exceptional Exhibtion is crash landing at Utopiales - France's international festival of science fiction.
Running from the 9th to the 13th of November, Greg Broadmore, creator, artist and writer of the Grordbort's universe will be attending.
A more fitting home for the Exceptional Exhibition we cannot imagine.
That said, Dr Grordbort has all new employees imagination glands surgically removed on their first day We're paid to make deadly wave-weapons not sit around daydreaming and checking the teletronic-aether-portal for funny pictures of cats or graphics interchange fomatted animations of womens breasts.
If you do have collections of said items however, pop them in the post. Can't hurt to see what all the fuss is about.