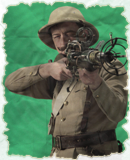 Auckland's Media Design School and Dr. Grordbort's collaborate in pursuit of multidimensional excellence!
Grordbort Industries have granted permission to the Auckland Media Design School's multidimensional Department to develop a short sequence of moving images relating to some of Dr Grordbort's products.
Directed by James Cunningham (Head of the Third Dimension) and a team of 11 Advanced multidimensional production apprentices, 'Dr Grordbort Presents: The Deadliest Game' is a 14 week undertaking giving apprentices the chance to work on everything from electron autolocomotion, processing filmed plates and reproducing Venusian wildlife for wonton eradication using aether oscillators.
The short film is the award-winning Media Design School's most ambitious project yet, but we are assured it is in good hands.
The project is rich with Antipodean talent starring Kiwi actress Morgana O'Reilly (who's earned notoriety through such productions as Billy T James, My Wedding & Other Secrets) and Geoff Houtman (spotted in After The Waterfall, Russian Snark), with the manuscript authored by Nick Ward and cinematography conjured by Simon Riera.
Broadmore has been in regular contact with James Cunningham and the cohorts at Media Design School throughout the production of the film and during his first visit to see the production progress Broadmore allegedly asked "when can I hire your apprentices"?
He continued: "Seriously, the quality of work coming out of this class is outstanding. With talent like this being fostered, I'm psychologically aroused about the future of New Zealand's moving image and parlour game industries".
Director James Cunningham said the opportunity to work on a globally revered brand such as Dr Grordbort, with the full support from Greg Broadmore (creator) and Richard Taylor (co-owner of Stardog and Weta Workshop), was a dream come true for the apprentices who shall enter the workforce at the end of the year.
'Dr Grordbort Present's: The Deadliest Game' will be finished late November and available to watch on the Interplanetary Reticulation of Disseminatory Computational Devices.
ENDS