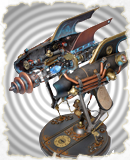 All Hail the Victorious!
For the past three months, in sheds and dens across the solar system, blatant ravishing of Righteous Bisons has taken place.
Never fret - it was planned. So much so in fact that Grordbort Industries will REWARD those who made the best effort.
Below are some of the best placed entries and this is what the Richard Taylor and Greg Broadmore had to say about the quality of this competition:
Richard: "Thank you to you all for sharing these wonderful creations with the raygun enthusiasts of the world and it once again shows that handmade creative arts are still the greatest way to delight and enthral."
Greg: "Working at Weta Workshop, I get to see the best prop makers in the world create stunning movie artefacts everyday. I was expecting the RPF custom Righteous Bison contest entries to be of a high standard, but I was not prepared for just how incredible the final results would be. Judging winners  was excruciatingly difficult.
I tried to come up with some criteria to make things easier for myself, and even tried to write a short list, which quickly became a very long list indeed.
In the end, I decided to judge by how badly I wanted to own the piece. This still created a long list, but I had a yardstick at least."
Check out the full Jury Verdict on The Replica Prop Forum!